Hire Motivational Speaker & Master Magician Rick Saldan For Your Upcoming Conference or Special Event
If you want your corporate event to be truly spectacular, you'll want to invite Rick out to to make your day more magical and exciting. You'll find Rick Saldan's Motivational Magic to be one of the most uniquely creative and energetic programs available today.

Motivational Magic makes your event special and highly memorable by combining inspiring educational content, stage illusion, hilarious comedy and an upbeat positive message. Your people will love Rick Saldan's Motivational Magic! Rick Saldan is a unique motivational speaker and seminar leader that combines comedy, theatrical illusions and extensive audience interaction with inspirational presentations. He creates a powerful and enjoyable learning experience, guaranteeing to make your next conference or special event an outstanding success!

Rick achieved Best Seller status for 4 of his books in the categories of Politics and Rheumatic Diseases
Click here to review the inspirational books written by Rick Saldan.

"Rick's presentation is thoroughly inspiring, entertaining and wonderful!"

Elizabeth O'Keeffe
Random House Publishing
Energize Your Audience With a Unique and Innovative Motivational Speaker

Motivational Speaker Rick Saldan will rivet your people to their chairs with an exciting event they'll talk about for months. He hits them with powerful visual effects, followed by content rich educational sessions, astounding true life inspiring stories and motivational messages. The combined impact carries an intense emotional surge that creates the desire to step up and take action.

Why is this important? Rick says, "I have been to countless seminars and conferences over the years. Within 3 days, participants have forgotten 90% of what they were taught. By creating an emotional surge, what you are teaching becomes imprinted in their minds. The rate of retention and application now increases dramatically! Participants become committed to taking action that will have impact."

Your conference participants will say, "Rick was one of the best speakers we have ever had."

Motivational Speaker Rick Saldan

"Rick Saldan has the wit, wisdom and sorcery of a wizard. He has a dynamic personality, and all will enjoy his captivating stories, comedy and magic!"

Dennis Slaughter
Credit Suisse First Boston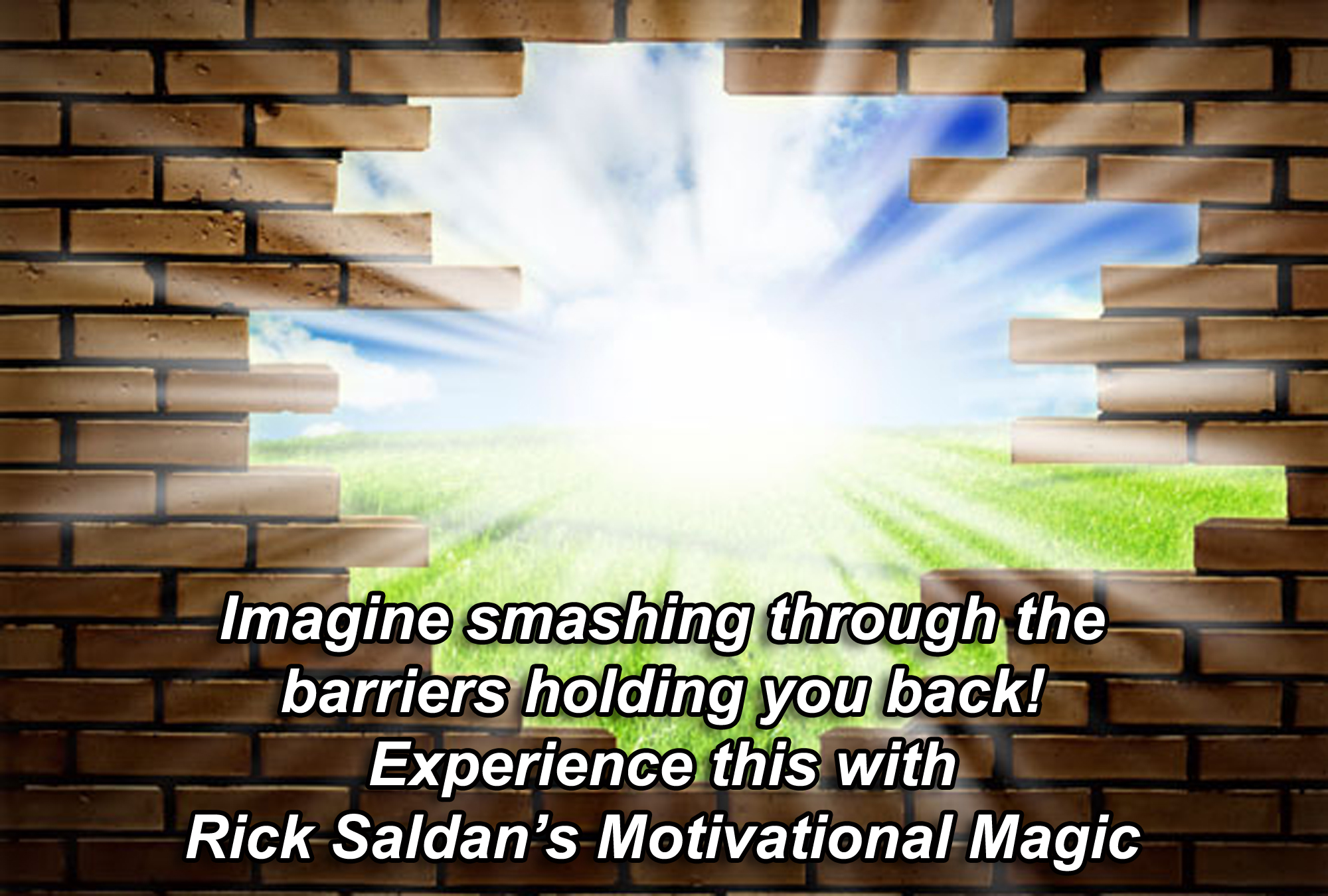 Rick's ideas, messages, strategies, and first-hand stories of overcoming adversity against all the odds will inspire your conference participants to become enthused, excited, and committed to action. Rick says, "With perseverance, drive, and vision, you can achieve what once seemed impossible. I encourage you to strive toward your vision for a new future -- one that energizes your gifts and hidden potential!"

Rick's main keynote message, "Secrets for Accomplishing the Impossible", is a fast paced, power packed presentation that is full to the brim with inspiration, insights and hilarious comedy. Rick's shares several astounding personal stories of triumph over daunting setbacks, and valuable life lessons that were learned from each.
You will want to book Rick early (click here) to reserve the date for your event!
Customizable Educational Content
The program content can be customized to fit with your specific themes, seamlessly matching up with the vision and mission of your organization. You can provide a list of your core values, and Rick can incorporate several of those into the Motivational Magic program The length can vary to fill nearly any opening, generally from 30 minutes to 90 minutes. Longer programs are possible, full courses and workshops from one to several days long.
If you are interested in customizing the Motivational Magic presentation, each segment of the program is broken down into 6-minute capsules, allowing you to pick and choose the topics that most resonate with you and your objectives for the special event. Among those topics you can choose from are Rick's teachings of the 12 Great Pillars of Motivational Magic (click here), as well as several hundred hours of his corporate training modules from Rick's Momentum Seminars (click here). Those training modules cover 16 main topic areas:
Leadership Development

Professional Selling Skills

Customer Service

Communication Skills

Coaching & Mentoring

Public Speaking

Stress Management

Effective Teamwork

Anger Management

Project Management

Management Excellence

Train the Trainer

Embracing Diversity

Displaced Workers

Meeting Management

Time Management
Powerful Attention Getters and Teaching Tools That Will Powerfully Seize the Attention of Your Audience
What is the single biggest problem faced by every meeting planner that brings in a speaker or sends employees out to a conference or training seminar? It is a proven fact that most of what we hear cannot be remembered just 3 days later. A study was done by the United States Air Force that showed that the average person forgets 96% of what we hear in 72 hours.
Rick Saldan's Motivational Magic completely demolishes that problem by creating a dramatically unique learning environment where all of the main key points can be easily recalled weeks and months later. How is that even possible? By stimulating a highly charged emotional state of mind through amazement, fun, laughter and pure child-like wonder, the people who attend Rick's events can remember just about everything he did and said. You can try this a week after the event by picking some of the participants at random and discreetly ask them a few questions to see how much of the information they taught can still be recalled. Try it out and see for yourself! You just can't lose when our results are guaranteed!
What is Motivational Magic?
How Can Motivational Magic Benefit
You and Your Audience?
When Rick worked as a corporate trainer in his earlier career, he was often asked to go out and evaluate some of the other instructors on his team. He saw that some speakers have very rich content, but their delivery is low key, dull and uninspiring (the "boring professor" type). Other speakers have a strong level of energy, but their content is very thin and shallow (the "rah rah" speakers). Both types of speakers end up giving you an average to low return on your investment. The end result might be good.... but not great. As a result of those early years of being sent out to assess and evaluate other trainers and instructors, Rick developed a keen desire to always hunt for ways that speakers could make greater impact on their listeners on a consistent basis. This journey eventually lead Rick to create the concept of Motivational Magic.
So how is Motivational Magic so different from the rest? What make Motivational Magic so special? First created by Rick in 1997, Motivational Magic is the concept of using theatrical magic as a teaching tool that dramatically improves the ability for an audience to remember everything being taught at your conference, seminar or special event. It means that you get a motivational speaker guaranteed to captivate, entertain and inspire your audience.
During his Motivational Magic events, Rick employs numerous theatrical magic effects to serve both as an attention getter to keep the audience on the edge of their seats, as well as a teaching tool to highlight the message for each learning concept. This is how your program serves your audience to be both educational and fun at the same time. The magic varies from hilarious comedy that will have the room roaring with laughter, to utter amazement where your audience will be talking about it for weeks trying to figure out how in the world the magic effects could have been done.
Within the six minute educational segments, each of Rick's illusions tie in with an the teaching component. This is Rick's secret to imprinting a valuable life lesson in the minds and hearts of people in the audience. Rick traveled throughout the country, training with some of the top illusionists in the nation to find the best possible demonstrations that create a deep sense of awe and amazement. Some of Rick's specialized theatrical magic effects and stage illusions include making doves appear from thin air, a parrot that does card tricks, the famous bullet catch and more!

How Will Your People in Describe
Rick Saldan's Motivational Magic?
| | | | | | |
| --- | --- | --- | --- | --- | --- |
| | "Energizing!" | | "Passionate!" | | "Captivating!" |
| | | | | | |
| | "Creative!" | | "Inspiring!" | | "Unique!" |
Contact Rick (click here) to early reserve the date for your conference!
Why is Rick Known as

One of America's Most Unique

Professional Speakers?

Audiences find Rick so interesting and captivating because he draws from a large volume of fascinating experiences. Rick is a:

Licensed nurse, specializing in providing care for dementia and Alzheimer's patients

Former U.S. Marine

Skydiver with over 180 parachute jumps from helicopters, hot air balloons and various aircraft

Technology instructor and technical writer that has written and taught more than 80 courses

Marathon runner (26 miles)

Master magician and illusionist

Award winning speaker with Toastmasters and Dale Carnegie

Trained driver of the M-1 Abrams Battle Tank at Fort Knox, Kentucky

Trained artilleryman with the M102 105 mm Howitzer air mobile cannon at Fort Sill, Oklahoma

Rick served in

the U.S. Marines

Rick is a licensed

skydiver with 180+ jumps
Rick is the Perfect Motivational Speaker
for Any Corporate Conference or Special Event
In his prior career experience, Rick worked with professionals at all levels from a variety industries. As evidenced by Rick's collection of more than 60 letters of recommendation, his seminars and workshops have been highly rated by attorneys, financial advisors, software developers, bank vice presidents, hedge fund managers, human resource directors, doctors, surgeons and physicians. Rick is skillful in developing a personal connection with people in all levels of your hierarchy, to include secretaries, paralegals, legal assistants, operating room technicians, receptionists, clerical staff, customer service specialists, nurses aides, and more. (Hey! The ultimate litmus test is gaining positive feedback from numerous Philadelphia lawyers, wouldn't you agree? If a speaker can impress and inspire a number of Philadelphia lawyers from several different firms, that speaker can impress just about everybody! Check out Rick's letters from Delighted Clients. Quite a number of attorneys from prestigious firms.)
Contact Rick early to reserve the date for your special event!
In this day and age, every dollar must be wisely invested with a measurable return on investment, right? To prove to your superiors that Rick's program makes a strong impact, he provides very detailed evaluation forms to be passed out among your conference participants. While many speakers provide evaluation forms, few are as detailed and as pointed as Rick's evaluation forms. Why? Because few speakers can match Rick's ability to hit home runs with so many varied assessment criteria.

Your audience will provide feedback and assess Rick's presentation skills, his message, rich in content and actionable information, ability to connect with and engage the audience, skill in making the event fun, memorable and enjoyable, audience involvement, enthusiasm, energy level, uniqueness, creativity and covered all points as promised in the event brochure (and your letter of agreement). If Rick does not provide you with audience feedback scores of 85% and higher, he will refund your investment (less travel and hotel expenses). An agreement to the specific terms will be signed by both parties in advance of the event. No doubt you would agree that you would be very hard pressed to find another speaker willing to offer such a guarantee!
Make an Impact Today With
Motivational Speaker Rick Saldan! Make
Your Upcoming Event One of the
Best Events You Have Ever Had!
Rick's main keynote message is called "How to Accomplish the Impossible!" It covers areas such as instilling confidence, raising self esteem, helping other co-workers achieve their goals, freedom from fear, and achieving personal breakthroughs. Rick provides his strategies for facing fear and overcoming internal obstacles and setbacks. Mixed in with the teaching segments are entertainment components that are employed to continually drawn your audience in and keep them engaged.
Your event can be custom tailored with segments from any of Rick's seminars and workshops. Past clients have chosen to customize with topic such as:
* Developing Self-Esteem

* Assertive vs. Aggressive
* Essential Elements of Customer Service
* Promoting Customer Service Excellence
* Dealing with Problematic People
* Coaching Staff to Peak Performance
* Running Highly Effective Meetings

* Negotiating for Win-Win Results
* Presentation Skills Boot Camp
* Speaking With Poise Under Pressure
* Overcoming your Fear of Public Speaking
* Building Relationships - Success in Sales
* Developing High Performance Teams
The program presented for your conference or special event is completely customizable to assist you in achieving your vision and your goals. Generally, the program is broken down into individual 3-minute and 6-minute segments. We can easily pull a component out and replace it with a topic that has a higher priority for your goals and objectives. For example, you might want to customize the main presentation and take out a segment on overcoming fear, and replace it with a message on how to more successfully coach and mentor your staff or maybe a segment on how to sell your ideas more effectively. Everything is laid out and planned in detail with you prior to the event, so you know exactly what you are getting for your investment.
An Event That is Fun, Fast Moving and Educational! Your Audience Will Have a Blast!
If you are content with average, then you might find that any speaker in might fit the bill. But if you want your organization to strive for extraordinary, then you need someone special and uniquely gifted of this caliber. When you hire Rick Saldan's Motivational Magic, you are guaranteed (literally! click here) to have an event that is not only educational, but it is fun, moving and inspiring. Your people will go home feeling energized and ready to tackle any new goals, challenges and objectives that your group wants to accomplish within the next 6 to 12 months. Your leaders will most likely refer back to a few of Rick's stories several months from now when your people run into a roadblock that seems too difficult to overcome.
Many have said after Rick's program, "This was the best presentation I have seen in years!" The event is fast paced, lively, and highly interactive with your guests. If you need a homerun for your next special event, you'll want to bring in Rick Saldan as your heavy hitter that will bring you the rave reviews that you want to hear.

Motivational Magic: The Perfect Fit for Luncheons, Dinners, Banquets, Conferences and Special Events

A full cabaret style Motivational Magic educational program with appearing doves, a comical parrot that does card tricks, mind reading, teleportation of small objects, and levitations. We've combed the country to compile some of the best magic and illusions you will ever see in your lifetime. Motivational Magic is strong with audience interaction and bringing up volunteers to participate in the show. There is nothing like the experience of magic happening right in your hands. You'll see that we work hard to create a unique experience unlike anything else you have ever seen.

Our fundamental belief in all of our Motivational Magic programs is that when people have a blast while attending our special events, and that your return on investment is above and beyond what you were even hoping for.

If you are preparing an awards or special employee recognition dinner, Rick can customize the content to include several of your key core beliefs.

Rick's Motivational Magic programs have a track record of producing consistently high ratings for our clients and loyal customers for more than 10 years. We have received many great comments and wonderful feedback when bringing the Motivational Magic program to professional associations and corporate events throughout the area.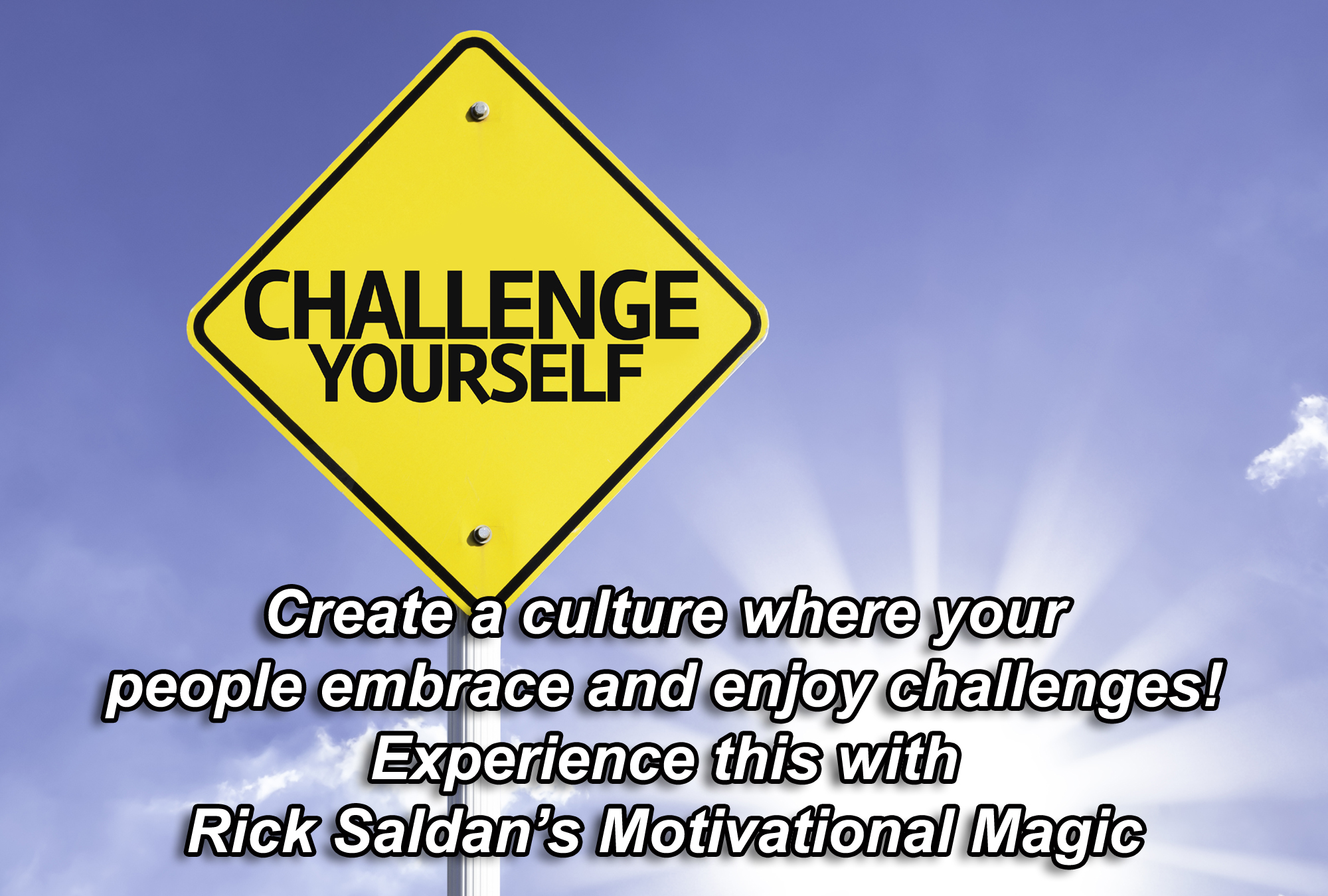 What Makes Rick Saldan Different From Every Other Motivational Speaker In The United States?
When you hire Richard Saldan, you hire a motivational speaker that will rivet your audience to their chairs and create lasting change in their lives. Richard Saldan will capture their attention, inspire them, and motivate them into action.

Difference #1 - A Motivational Speaker With First Person Stories
Richard Saldan is a former Marine with stories about drive, determination and mental toughness that really inspire his audiences to tap into their own unlimited personal power.

Difference #2 - Unbelievable Adventures
He is a motivational speaker with almost 200 jumps from altitudes as high as 15,000 feet, and truly a speaker like no other. He not only talks the talk, but his life shines through as he walks the walk and inspires your people with his inspirational stories. From skydiving, to scuba diving with sharks, to funny baseball analogies.

Difference #3 - Stage Magic as a Powerful Teaching Tool
Not only a highly skilled and experienced speaker, Richard is also a master magician and he skillfully uses professional stage magic as and exciting music as teaching tools to help audiences experience first hand, how they can truly create their own "real life magic".

Difference #4 - More Than Ten Years Experience as a Seminar Leader
As a seminar leader with more than 10 years experience as a seminar leader, corporate trainer, and technology instructor, he has taught a large variety of programs to include team building, sales training, peak performance and leadership development. Richard has a high energy and enthusiastic personality that belies the real strength and power of his message. A master among keynote speakers.

Difference #5 - Consistently High Ratings
Richard Saldan's seminars are uniformly a big hit in large corporate settings and on college campuses, with consistently superior evaluations averaging 9.3 on a 10 point scale.

Difference #6 - Heart-Felt Messages and Strong Impact
You and your audience will be spellbound while listening to his stories in overcoming his fear of heights by taking skydiving lessons.

Difference #7 - Creates Breakthrough Experiences
You can face those setbacks, those doubts, and push through to achieve your deepest desires, realize your most sought after goals, and use your vision for a new future that taps into your hidden potential.

Difference #8 - Astounding Victories That Trigger Your People
You will feel that same sense of triumph as Richard shows video footage of conquests in extreme skydiving. He shares other exciting experiences driving armored tanks, shooting artillery cannons, flying in a glider over the Nevada desert, scuba diving with sharks, and bungee jumping.

Difference #9 - Freeing People From Discouragement & Fear
Richard's love for people and passion for helping others comes through very strongly in his powerful messages.

Volunteering for five years deep within prison walls as a lay counselor to inmates looking to turn their lives around. His zest for life is contagious and energizing, while his sensitivity and insights will touch your heart deeply.

You Can Make A Difference In Your Organization Starting Today! Absolutely Guaranteed!

Richard's areas of expertise include topics on confidence, self esteem, helping others, freedom from fear, and achieving personal breakthroughs.

Richard provides his strategies for facing fear and overcoming internal obstacles and setbacks. The high impact message is that with perseverance, drive and vision, you can achieve the impossible.

Call today to book your next keynote, seminar or special events program.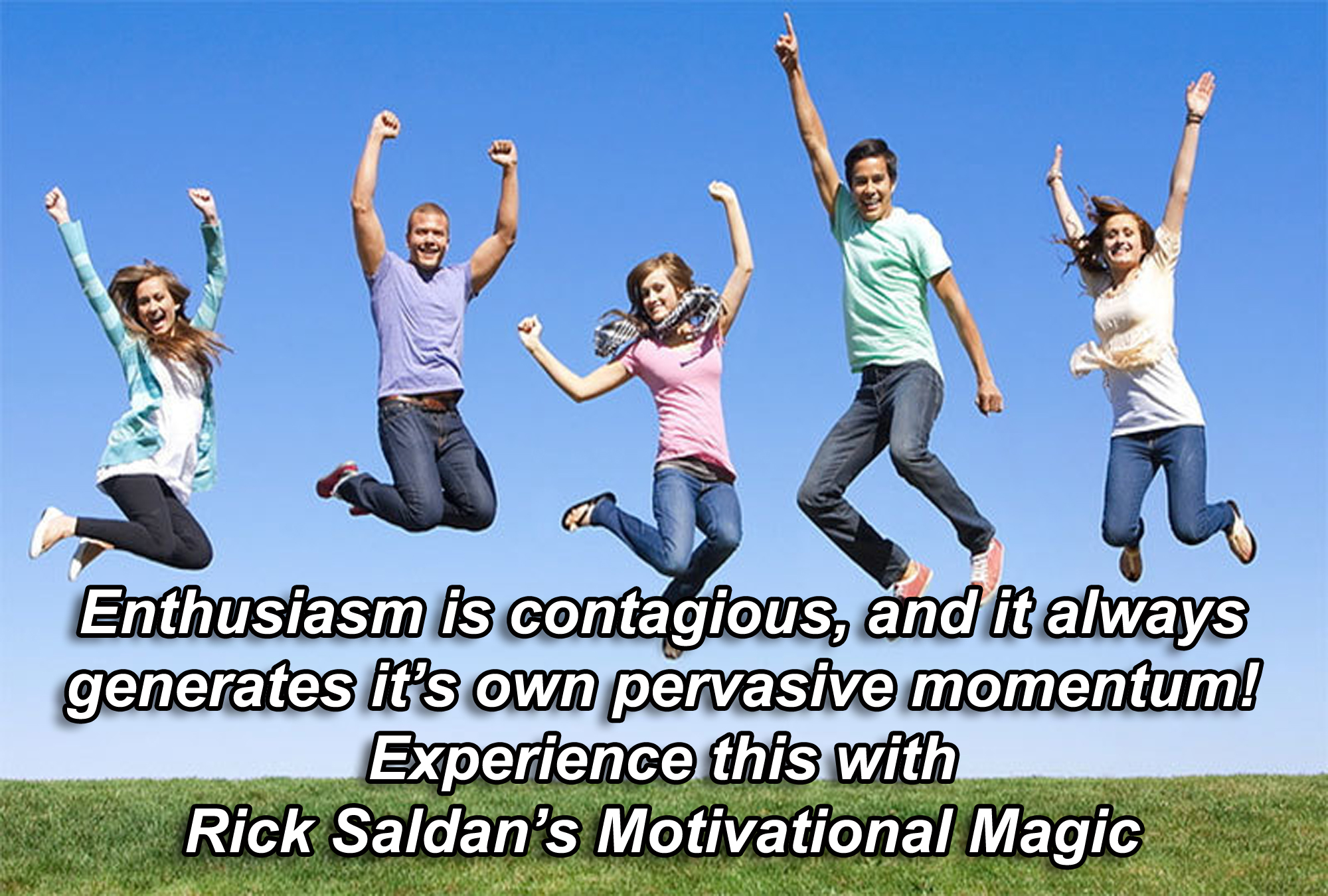 What Does All Of This Mean To You and
What Benefits Will You Enjoy?
It means that you get a motivational speaker guaranteed to captivate, entertain and inspire your audience. Your conference becomes a smashing success. Your people leave feeling refreshed, reinvigorated and excited about taking action and making a difference. Now isn't that a picture you want to see yourself in?
Call today to book Motivational Speaker Rick Saldan for your next conference. He can provide his message as a keynote or a hands-on workshop, fitting nearly any time frame you require.
Rick's various skills, talents and services have delighted employees from a wide variety of organizations, such as:

Merck

Commonwealth Telephone
Naval Air Surface Warfare Center
Dale Carnegie
Door is Open Counseling Center
PECO Energy
Commonwealth Telephone Enterprises
Random House Publishing
Montclair State University
Credit Suisse First Boston
United States Marine Corps
Office of Fleet Management

City of Philadelphia
Gregory Bishop Productions
Burtley Productions, Inc.
Over The Edge Theatre Productions
Lord Abbett
The Vendare Group
Voyage House, Inc.

The Glenmede Trust Company

Stockard Shipping & Terminal Corporation

Pyramid Club
Franklin Research Center

Greater Philadelphia Chamber of Commerce
Litvin, Blumberg, Matusow & Young
Krusen, Evans & Byrne

Klehr, Harrison, Harvey, Branzburg,

Ellers & Weir
Greenberg Traurig
Zarwin , Baum, Resnick & Cohen
Greenstein, Gorelick, Price, Silverman &

Laveson
Krusen, Evans & Byrne

Prime Bank
Pennsylvania Prison Society

City of Philadelphia Prison System

Philadelphia Youth Study Center
Philadelphia Committee for the Homeless
"Rick, thank you for your awesome presentation. I know that all of my teams loved your 90-minute program. Our staff has traveled the world and seen the best speakers alive today, and yet your Motivational Magic was fresh, unique and very engaging. Your insights are brilliant. We all loved how you performed an "undercover customer" assessment of our sales force. Your feedback on their strengths and weaknesses was 100% on target, and we are taking steps to implement your suggestions. I love your inspirational message and your powerful delivery. I hope that you can spread even more magic throughout the world!

Gene McNaughton
Vice President of Sales
Anthony Robbins & Associates

---

"Rick Saldan is an excellent inspirational speaker who tailored the seminar to the needs of the individuals being instructed. This office thanks the Mayors Office of Information Services for having such a vendor."

Timothy K. Lynch

Office of Fleet Management

City of Philadelphia

---

"I would like to express our gratitude for the on-site training seminar you provided us. I was impressed that you cared enough that you stayed past 6 pm working with us to answer each of our many concerns and questions. Your training was enjoyable, informative and very useful in helping us to solve some of the day-to-day challenges we encounter at Stockard Shipping. You were very concerned about meeting our particular needs, and tailored 'your instruction to cover those specific goals that we had. Looking forward to working with you in the future!"

Frank Signorello
Vice President, Sales
Stockard Shipping &
Terminal Corporation

---

"The experiences I had in your seminars were rewarding and informative. You tailored each session to fit the varying needs of the employees but also managed to still cover topics in your plan. You maintained your composure and sense of humor in the face of numerous questions and demands. You came through when I called with a problem. The intricate solution you constructed works perfectly for the complicated operation required."

Patricia J. Kosek
The Glenmede Trust Company

---

"Rick Saldan delivers a first-class show! A pro in every sense of the word. Funny, unique, entertaining and polished."

Brian Letscher, Actor
Credits (29) include:

Luke in "One and Done"

Secret Service Agent in "Scandal"
Mark Dupont in "Hawaii Five-O"

Gus Sanders in "Hollywood Heights"

Derek Fielder in "House of Lies"

Billy Mock in "The Mentalist"

Marine Cpl Scott Reilly in "NCIS"
Det. Pete McGinley in "Cold Case"

Mark Rhodes in "Law & Order"

---

"Rick's Motivational Magic is highly creative and unique. He seizes their attention with his illusions, and then uses his magic and personality to teach the audience how to live their lives at their fullest potential."

Joyce Dolberg Rowe LMHC
Regional Training Director
Mars & Venus in the Workplace
Author, How To Find Your Soulmate
---
"Rick has given of his time, energy and talents to all kinds; from the needy elderly to convicts, from terminally ill patients to runaways. He has strengthened and edified the lives of many."


Captain Ross Schwalm,

United States Marine Corps

---

"The oohs and ahhs could be heard for miles as magician and motivational speaker Rick Saldan taught students at the Clarence B. Lamb School how to be possibility thinkers."

Dana Forde
The New Egypt Press

You can rest your mouse on the following photos to pause:

Home | Contact | Bio | Clients | Articles | Pillars

You can pause the slideshow by hovering your mouse over the pictures |

Photos | Be Where is Rick Saldan's Motivational Magic Available?

New York, New York * Abilene, Texas * Akron, Ohio * Albany, New York * Albuquerque, New Mexico * Alexandria, Virginia * Alhambra, California * Allentown, Pennsylvania * Amarillo, Texas * Anaheim, California * Anchorage, Alaska * Ann Arbor, Michigan * Antioch, California * Arlington, Texas * Arlington CDP, Virginia * Arvada, Colorado * Athens-Clarke County, Georgia * Atlanta, Georgia * Augusta-Richmond, Georgia * Aurora, Colorado * Aurora, Illinois * Austin, Texas * Bakersfield, California * Baltimore, Maryland * Baton Rouge, Louisiana * Beaumont, Texas * Bellevue, Washington * Berkeley, California * Billings, Montana * Birmingham, Alabama * Boise, Idaho * Boston, Massachusetts * Boulder, Colorado * Bridgeport, Connecticut * Brockton, Massachusetts * Brownsville, Texas * Buffalo, New York * Burbank, California * Cambridge, Massachusetts * Cape Coral, Florida * Carrollton, Texas * Carson, California * Cary town, North Carolina * Cedar Rapids, Iowa * Centennial, Colorado * Chandler, Arizona * Charleston, South Carolina * Charlotte, North Carolina * Chattanooga, Tennessee * Chesapeake, Virginia * Chicago, Illinois * Chula Vista, California * Cincinnati, Ohio * Citrus Heights, California * Clarksville, Tennessee * Clearwater, Florida * Cleveland, Ohio * Colorado Springs, Colorado * Columbia, South Carolina * Columbus, Georgia * Columbus, Ohio * Compton, California * Concord, California * Coral Springs, Florida * Corona, California * Corpus Christi, Texas * Costa Mesa, California * Dallas, Texas * Daly, California * Davenport, Iowa * Dayton, Ohio * Dearborn, Michigan * Denton, Texas * Denver, Colorado * Des Moines, Iowa * Detroit, Michigan * Downey, California * Durham, North Carolina * El Cajon, California * El Monte, California * El Paso, Texas * Elgin, Illinois * Elizabeth, New Jersey * Erie, Pennsylvania * Escondido, California * Eugene, Oregon * Evansville, Indiana * Everett, Washington * Fairfield, California * Fall River, Massachusetts * Fargo, North Dakota * Fayetteville, North Carolina * Flint, Michigan * Fontana, California * Fort Collins, Colorado * Fort Lauderdale, Florida * Fort Wayne, Indiana * Fort Worth, Texas * Fremont, California * Fresno, California * Fullerton, California * Gainesville, Florida * Garden Grove, California * Garland, Texas * Gary, Indiana * Gilbert town, Arizona * Glendale, Arizona * Glendale, California * Grand Prairie, Texas * Grand Rapids, Michigan * Green Bay, Wisconsin * Greensboro, North Carolina * Gresham, Oregon * Hampton, Virginia * Hartford, Connecticut * Hayward, California * Henderson, Nevada * Hialeah, Florida * High Point, North Carolina * Hollywood, Florida * Honolulu CDP, Hawaii * Houston, Texas * Huntington Beach, California * Huntsville, Alabama * Independence, Missouri * Indianapolis, Indiana * Inglewood, California * Irvine, California * Irving, Texas * Jackson, Mississippi * Jacksonville, Florida * Jersey, New Jersey * Joliet, Illinois * Kansas, Kansas * Kansas, Missouri * Kenosha, Wisconsin * Killeen, Texas * Knoxville, Tennessee * Lafayette, Louisiana * Lakewood, Colorado * Lancaster, California * Lansing, Michigan * Laredo, Texas * Las Vegas, Nevada * Lawton, Oklahoma * Lexington-Fayette, Kentucky * Lincoln, Nebraska * Little Rock, Arkansas * Livonia, Michigan * Long Beach, California * Los Angeles, California * Louisville, Kentucky * Lowell, Massachusetts * Lubbock, Texas * Lynn, Massachusetts * Macon, Georgia * Madison, Wisconsin * Manchester, New Hampshire * McAllen, Texas * Memphis, Tennessee * Mesa, Arizona * Mesquite, Texas * Miami, Florida * Miami Beach, Florida * Midland, Texas * Milwaukee, Wisconsin * Minneapolis, Minnesota * Miramar, Florida * Mission Viejo, California * Mobile, Alabama * Modesto, California * Montgomery, Alabama * Moreno Valley, California * Naperville, Illinois * Nashua, New Hampshire * Nashville-Davidson, Tennessee * New Bedford, Massachusetts * New Haven, Connecticut * New Orleans, Louisiana * Newark, New Jersey * Newport News, Virginia * Norfolk, Virginia * Norman, Oklahoma * North Las Vegas, Nevada * Norwalk, California * Oakland, California * Oceanside, California * Odessa, Texas * Oklahoma, Oklahoma * Olathe, Kansas * Omaha, Nebraska * Ontario, California * Orange, California * Orlando, Florida * Overland Park, Kansas * Oxnard, California * Palmdale, California * Pasadena, California * Pasadena, Texas * Paterson, New Jersey * Pembroke Pines, Florida * Peoria, Arizona * Peoria, Illinois * Philadelphia, Pennsylvania * Phoenix, Arizona * Pittsburgh, Pennsylvania * Plano, Texas * Pomona, California * Pompano Beach, Florida * Port St. Lucie, Florida * Portland, Oregon * Portsmouth, Virginia * Providence, Rhode Island * Provo, Utah * Pueblo, Colorado * Quincy, Massachusetts * Raleigh, North Carolina * Rancho Cucamonga, California * Reno, Nevada * Rialto, California * Richardson, Texas * Richmond, California * Richmond, Virginia * Riverside, California * Roanoke, Virginia * Rochester, Minnesota * Rochester, New York * Rockford, Illinois * Roseville, California * Sacramento, California * Salem, Oregon * Salinas, California * Salt Lake, Utah * San Angelo, Texas * San Antonio, Texas * San Bernardino, California * San Diego, California * San Francisco, California * San Jose, California * San Mateo, California * Sandy, Utah * Santa Ana, California * Santa Barbara, California * Santa Clara, California * Santa Clarita, California * Santa Rosa, California * Savannah, Georgia * Scottsdale, Arizona * Seattle, Washington * Shreveport, Louisiana * Simi Valley, California * Sioux Falls, South Dakota * South Bend, Indiana * South Gate, California * Spokane, Washington * Springfield, Illinois * Springfield, Massachusetts * Springfield, Missouri * St. Louis, Missouri * St. Paul, Minnesota * St. Petersburg, Florida * Stamford, Connecticut * Sterling Heights, Michigan * Stockton, California * Sunnyvale, California * Sunrise, Florida * Syracuse, New York * Tacoma, Washington * Tallahassee, Florida * Tampa, Florida * Tempe, Arizona * Thornton, Colorado * Thousand Oaks, California * Toledo, Ohio * Topeka, Kansas * Torrance, California * Tucson, Arizona * Tulsa, Oklahoma * Vacaville, California * Vallejo, California * Vancouver, Washington * Ventura, California * Virginia Beach, Virginia * Visalia, California * Vista, California * Waco, Texas * Warren, Michigan * Washington, District of Columbia * Waterbury, Connecticut * Waukegan, Illinois * West Covina, California * West Valley, Utah * Westminster, California * Westminster, Colorado * Wichita, Kansas * Wichita Falls, Texas * Wilmington, North Carolina * Winston-Salem, North Carolina * Worcester, Massachusetts * Yonkers, New York * New York City, New York - Close Up Magician * Miami, Florida - Close Up Magician * Manhattan, New York - Close Up Magician